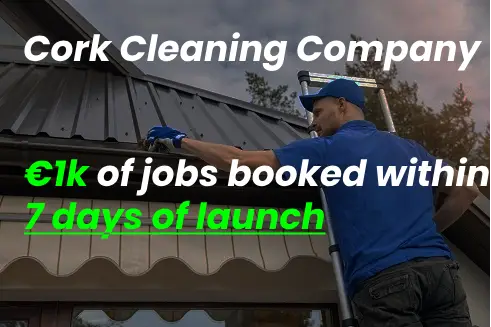 How Cleanway's New Website Cleaned Up €1k in Jobs in Just One Week!
In this article, discover how Cleanway achieved remarkable success, securing over €1k in jobs within a week of launching their website with no existing online presence or previous customers! We'll unveil the precise process that fueled their triumph, from crafting a sales driven website to strategically deploying targeted Google ads.
🔥 Keep reading because we are going to share our exact process with you step by step so that you can replicate these results for your own business. 🔥
🔬 Keyword Research
We kicked off the process by listing Cleanway's services, which include window cleaning, gutter cleaning, and carpet cleaning. Using a keyword research tool, we gauged the search volume for these keywords, gaining valuable insights into the demand for these services in Cleanway's service area.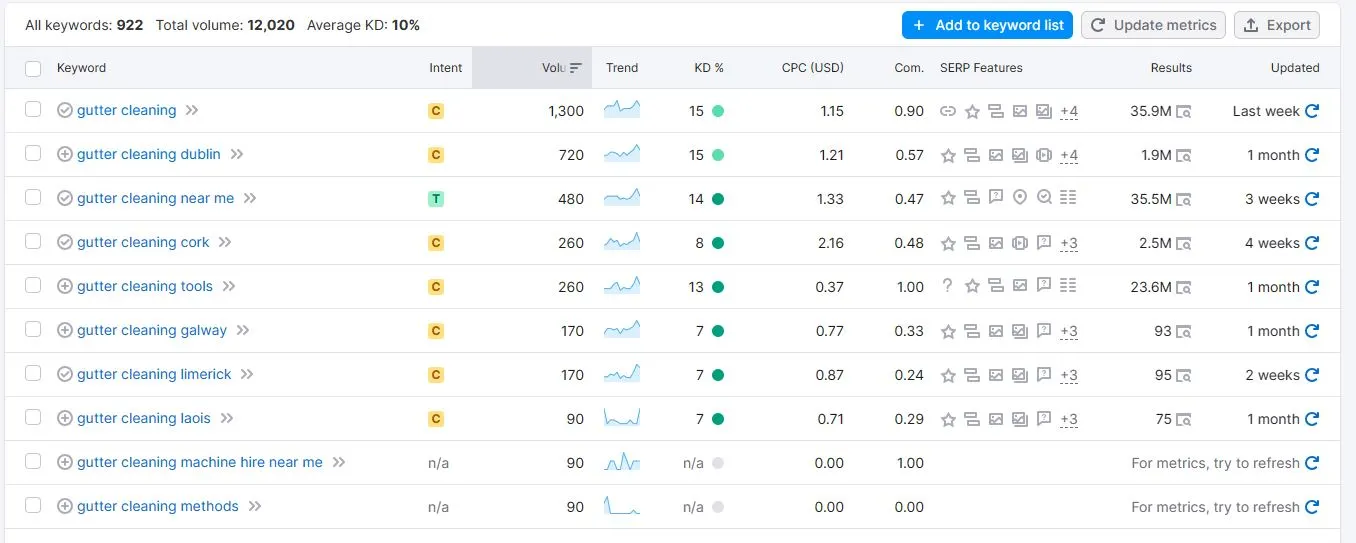 With our keyword research in hand, we identified the specific questions people were searching for related to Cleanway's services. By addressing these inquiries directly on the website, we ensured that Google included Cleanway's site in search results for a wide range of relevant queries and it helped us to formulate effective copywriting and FAQ's to give customers a better experience on the website.
🔎 Competitor Analysis
I will go into a lot more detail about this in another post. Put simply, we analyze what the competition is doing well and what they are lacking. Most local service businesses have very slow WordPress websites, and they don't run ads because they do not know how to run them profitably. This means it is quite easy to rank on the first page of Google and run the cheap, profitable ads that allowed Cleanway to start booking jobs on the first day of launch
I have gone into more detail on why you should avoid using WordPress and other page builders in this blog post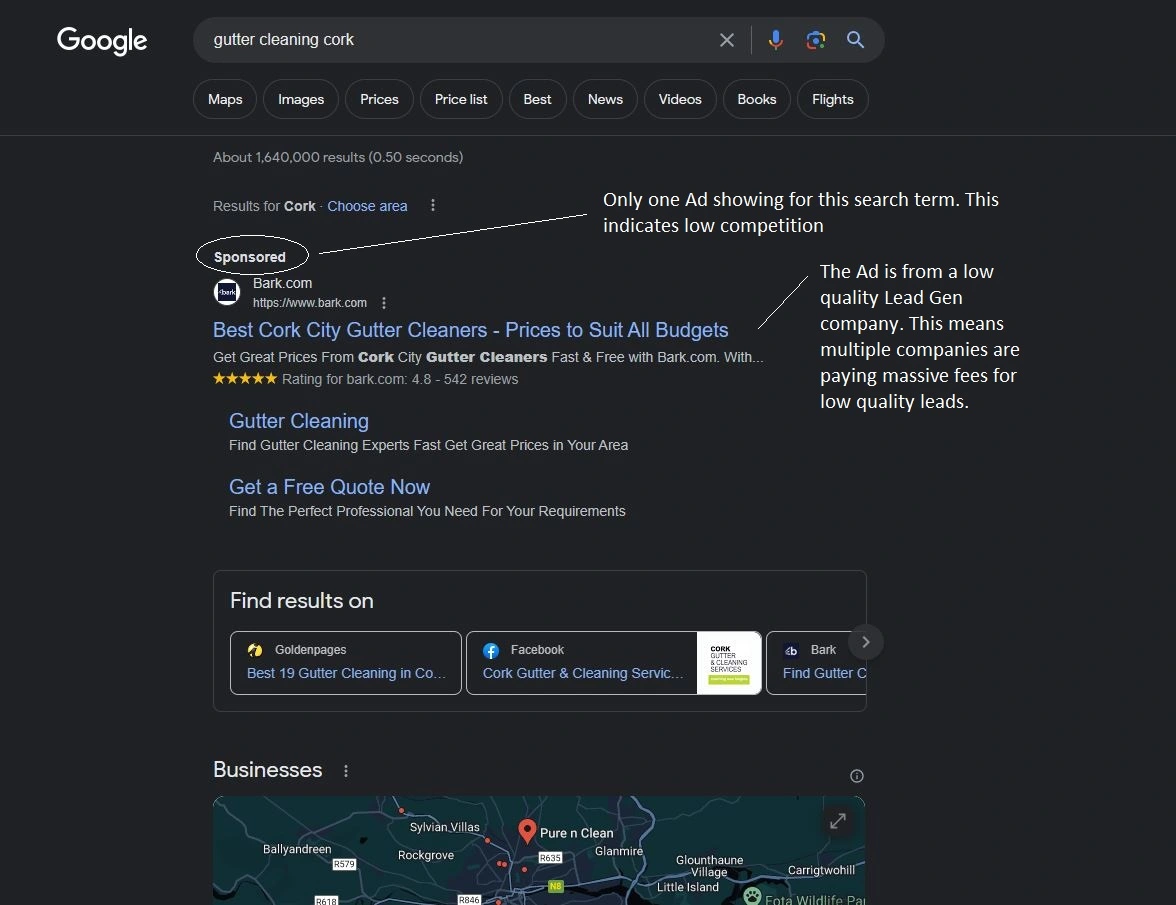 It's easy to be successful in local business, you can crush the competiton by executing a couple of these flawlessly:
Optimized Google Ads
Optimized Facebook Ads
Google Local Service Ads
Professional Website designed to act as a passive sales machine.
SEO (Search Engine Optimization)
Actively collect customer reviews
If you can execute all of the above points, your website will get a large volume of free search traffic from SEO & Google Reviews along with visitors from highly profitable and consistent paid ads.
🖥️ Website Design / Development
The goal of this website was to generate leads and drive consistent sales. To achieve this objective, we follow a consistent and straightforward strategy, focusing on three key goals while building the website:
Making Google Happy
Ensuring Customer Satisfaction
Designing the website to drive sales
Keep reading to see exactly how we do this, and how it results in a website becoming passive lead generating machine.
1. Make Google Happy
When Google's algorithm likes your website, it will rank you on the first page of the search results, allowing customers to easily find your website and generate revenue.
The key to achieving this is implementing a highly personalized and targeted SEO (Search Engine Optimization) strategy.
Google has made clear the requirements to gain a high search ranking. It is essential that your website has a fast loading time, is optimized for mobile users, and built with clear and formatted code so that Google's web crawlers can easily read your website.
Here are some of the key steps we follow to achieve consistently high rankings:
Build the website with a responsive mobile-first design, ensuring it looks good on all screen sizes. Non-responsive websites may be penalized in mobile search results.

Ensure the website loads instantly.

We hand-code our websites to maximize page speeds on both desktop and mobile, providing an advantage over websites that use page builders – known for bloated code and poor mobile optimization.

We use modern image formats and compression methods to further reduce website weight.

If your website takes more than 3 seconds to load, the majority of your visitors may abandon the site, resulting in lost customers.

Incorporate the keywords identified from our keyword research into the website. Often, we dedicate a full page on the website to target the most important and profitable keywords, an example of this would be a page dedicated to carpet cleaning.

The most critical factor is ensuring the website has informative content that is clear and concise. This includes company information, service details, and appropriately sized clear images.
There is much more involved in ensuring a website achieves a high ranking, but to keep this section brief I have included what I believe are the most important factors.
2. Ensuring Customer Satisfaction
The goal of this website was to make it as easy as possible for customers to find the information they need and receive a quote for cleaning services. Achieving this means we don't lose potential customers to our competitors.
Here is a quick breakdown of how to achieve this :
Each page must have clear and concise information relevant to the title and description of the page.
Make sure the website looks good on all screen sizes and runs fast. This will massively reduce the bounce rate.
Implement conversion funnels into the website's design. Conversion funnels will naturally encourage users to request a quote and increase the websites conversion rates.
Dedicate a seperate page on the website for each service provided with detailed descriptions and FAQ sections.
3. Design to Drive Sales
To ensure long-term success, implementing all the steps mentioned above, along with a strategic marketing approach, is essential.
Cleanway's website was designed with dedicated pages for each listed service and supported by a meticulously managed Google Ads campaign to drive traffic to the site.
For instance, when a potential customer searched for Gutter Cleaning services on Google, they would come across Cleanway's targeted ad. Upon clicking the ad, they would be directed to a specific page on the website dedicated to Gutter Cleaning. This page was thoughtfully designed, featuring a clear CTA (Call To Action), along with images, comprehensive service information, and detailed FAQ's to address any potential customer queries.
In essence, to maximize conversions, the primary focus should be on providing customers with all relevant information they might need and making the process of hiring Cleanway as easy as possible.
💵 Launch 💵
When the website was launched Cleanway had no social media presence or existing customers. The website was optimized for SEO but it takes 6-12 months to see significant results from SEO work. The next job was to get customers onto the website while our long-term SEO plan is maturing.
How can we attract customers to visit our website on the day of its launch?
Harnessing the immense potential of Google Ads, we strategically crafted a compelling campaign to position Cleanway's website directly in front of local customers actively seeking various cleaning services. The results surpassed all expectations, delivering not only a low Cost Per Click (CPC) but also filling Cleanway's calendar with an impressive €1k in booked jobs.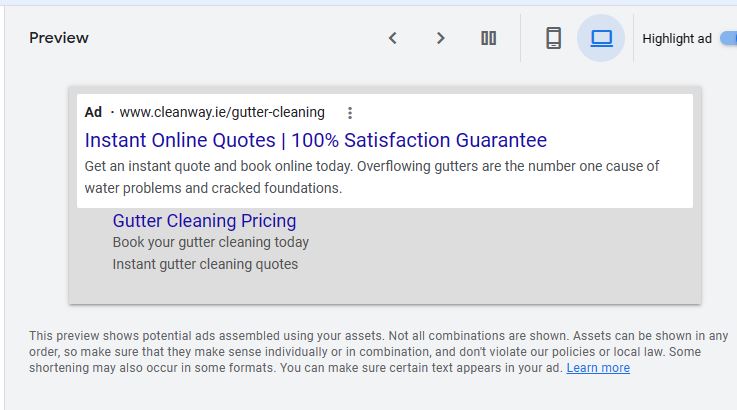 Our triumph rested on three pivotal factors:
Precisely targeted Google Ads campaign, meticulously optimized through data-driven insights, which ensured we reached the most relevant audience while excluding irrelevant searches.
A visually captivating, lightning-fast website expertly designed to maximize conversions, elevating user experience and encouraging seamless interactions.
The website was setup for long-term success through an intelligent keyword research and SEO strategy.
Contrasting with some unfortunate experiences of fellow business owners who encountered Google Ads setbacks, we attribute our success to the vital importance of data-backed strategies, ensuring the right audience is driven to our website at a budget-friendly CPC. Furthermore, our website was carefully crafted to overcome common issues such as sluggish loading times, scarce information, and lack of trust signals, culminating in a powerhouse that facilitates successful sales conversions.
Would you like similar results for your business? Click here to contact us and book a Call.
⚡For September we are running a special promotion⚡
Try our €0 down /147mo Web Design Package with zero risk
- We build you an SEO and online marketing strategy
- We will build you a website designed to drive sales