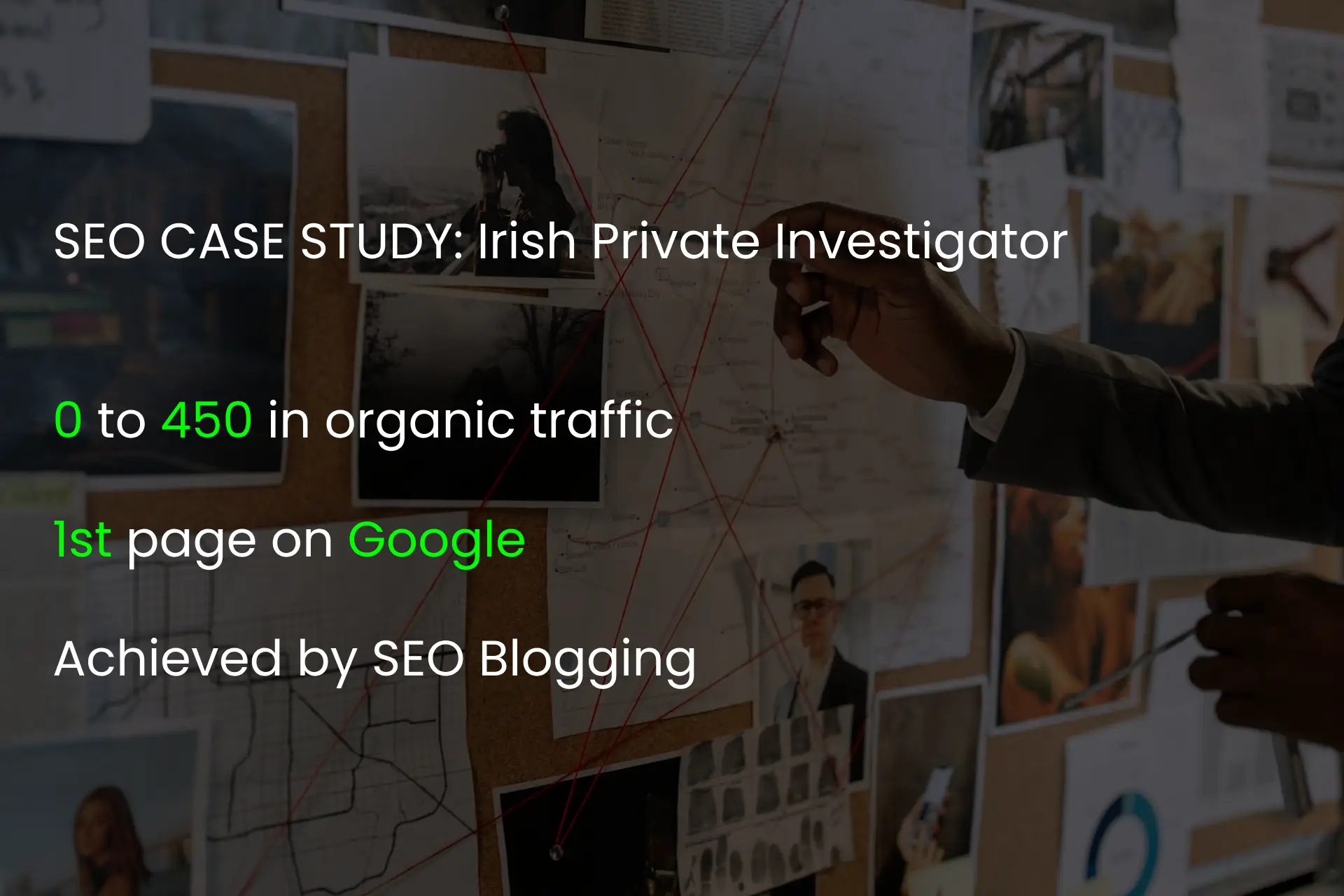 SEO Case Study: Private Investigator uses blogging to obtain hundreds of clicks
In this SEO case study, we unveil the precise strategy that catapulted an Irish private investigator to garner hundreds of monthly clicks, secure a coveted spot on Google's first page, and generate a multitude of valuable leads.
We will break down our strategy in a simple three step process that you can easily replicate for your business.
Keyword Research Document
The goal of our keyword research was to identify high volume keywords that would not only bring traffic to the website, but visitors with a high intent of purchasing private investigation services. The goal of this project was not to bring more traffic to the website, it was to bring more customers by driving traffic and conversions. For more information read how we conduct keyword research.
Writing useful and informative blogs can be the key to getting noticed by the right people. A great example of this is the question, 'How much does private investigation cost.' This specific phrase has proven to be a real winner, bringing in over 400 searches each month for Private Investigator Ireland
Our approach to finding these words was careful and thorough. We looked closely at what people were searching for when it came to private investigation services. Using tools like Google Keyword Planner, SEMrush, and Ahrefs, we singled out 'How much does private investigation cost' as a standout keyword with a high potential to attract the right audience.

To make privateinvestigatorireland.ie stand out, we paid close attention to the words we used. One smart move was tailoring our blog content to fit into Google's featured snippets. These are the short answers you see at the top of search results. So, for the question 'How much does private investigation cost,' we made sure to give a clear and brief answer right at the beginning of the blog. This helps increase the chances of our content showing up as the first result, making privateinvestigatorireland.ie more visible and trusted for anyone looking for info on private investigation costs. It's about giving quick answers and playing by the rules that Google sets for what shows up first.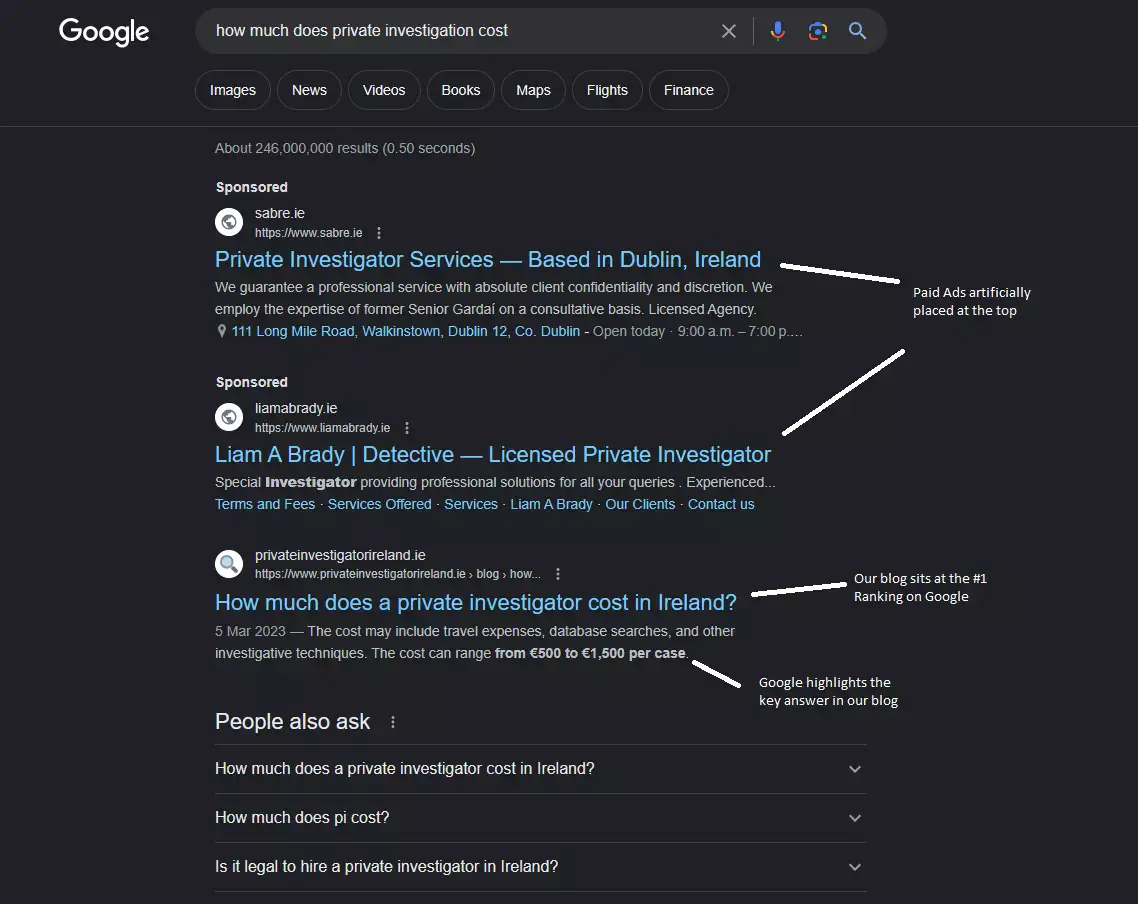 By focusing on this particular question, we aimed to directly address what people are curious about. This strategy has paid off, generating a significant amount of interest and traffic for privateinvestigatorireland.ie. It's a testament to the power of understanding what your audience is asking and tailoring your online content to provide the answers they're looking for.
Search Engine Optimized Web Design
Here at Ireland Web Designs, we take a unique approach to web design. We are one of the only Irish web design companies that does not use page builders such as WordPress. We hand-code all of our websites, and we have a very good reason for avoiding page builders. Websites built with page builders are often very slow because they use bloated code and are filled with plugins that further slow down the page.
The dynamic nature of WordPress websites, introduces a complexity that contribute to slower loading times when compared to static hand-coded websites. In a dynamic site, server-side languages and technologies are employed to construct the webpage by assembling HTML, CSS, and assets from a database as the page loads on the server. This contrasts with static hand-coded websites, where the HTML, CSS, and assets are pre-compiled, and the server merely serves the already compiled files to the browser.
Static hand-coded websites load up to 10 times faster than page builders like WordPress. If your website takes more than 3 seconds to load, the majority of your visitors will abandon the site, losing customers and massively increasing your bounce rate, which is a negative SEO indicator.
Mobile responsiveness and page speed is one of the important metrics monitored by Google's search ranking algorithm. A slow poorly coded websites can lead to your website landing on page 10 instead of page one.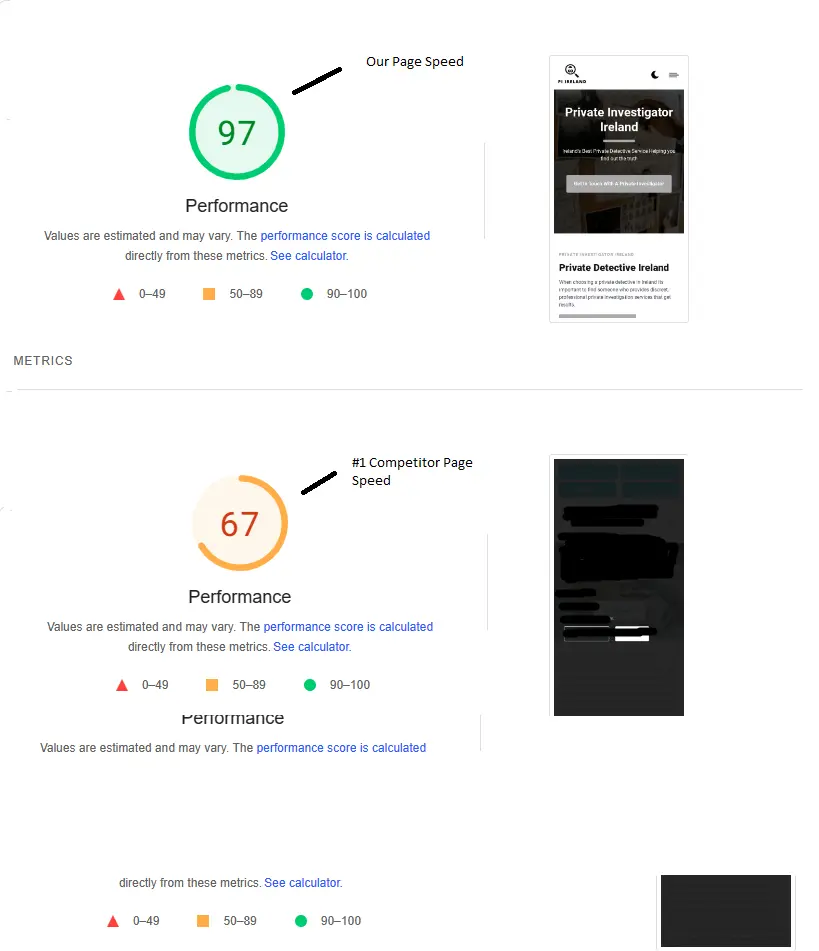 The website we built for Private Investigator Ireland was designed using a mobile first approach, easily out-performing competitors in page speed tests. The website loads instantly for mobile devices and keeps customers on the website.
Code Structure & Quality Content
The are several factors we have to take into account when building a website to ensure the website is optimized for users and search engines. When building a new website, we look into competitors On Page SEO, Off Page SEO, Technical Factors in order to analyze the level competition.
On Page SEO
On Page SEO is the optimizing of elements on web pages for search engines. In addition to writing relevant, high-quality content, on-page SEO includes optimizing your HTML code (title, meta, and header) and including clear, high quality images relevant to the topic of the web page.
Quality Content
This involves checking the quality of the copywriting on the webpage. We would check for basic things such as spelling errors and if the content is relevant to the topic of the web page. It is also very important to include as much information as possible that could be relevant to people who land on the page. This will decrease the websites bounce rate and increase each users dwell time.
Code Structure
A properly structured website is a website that is built not only for users, but for Google. This involves the using the correct HTML tags and putting them in the right places of a webpage. Many websites that are built with WordPress have their SEO destroyed because the developer does not understand how to correctly structure HTML tags. The most important HTML tag on a web page is the H1 tag. You should only have one H1 tag per web page and include your main keyword in this tag to let Google know the topic of the webpage. Our H1 tag is 'Private Investigator Ireland' this tells Google the subject of our page and boost rankings significantly for this keyword.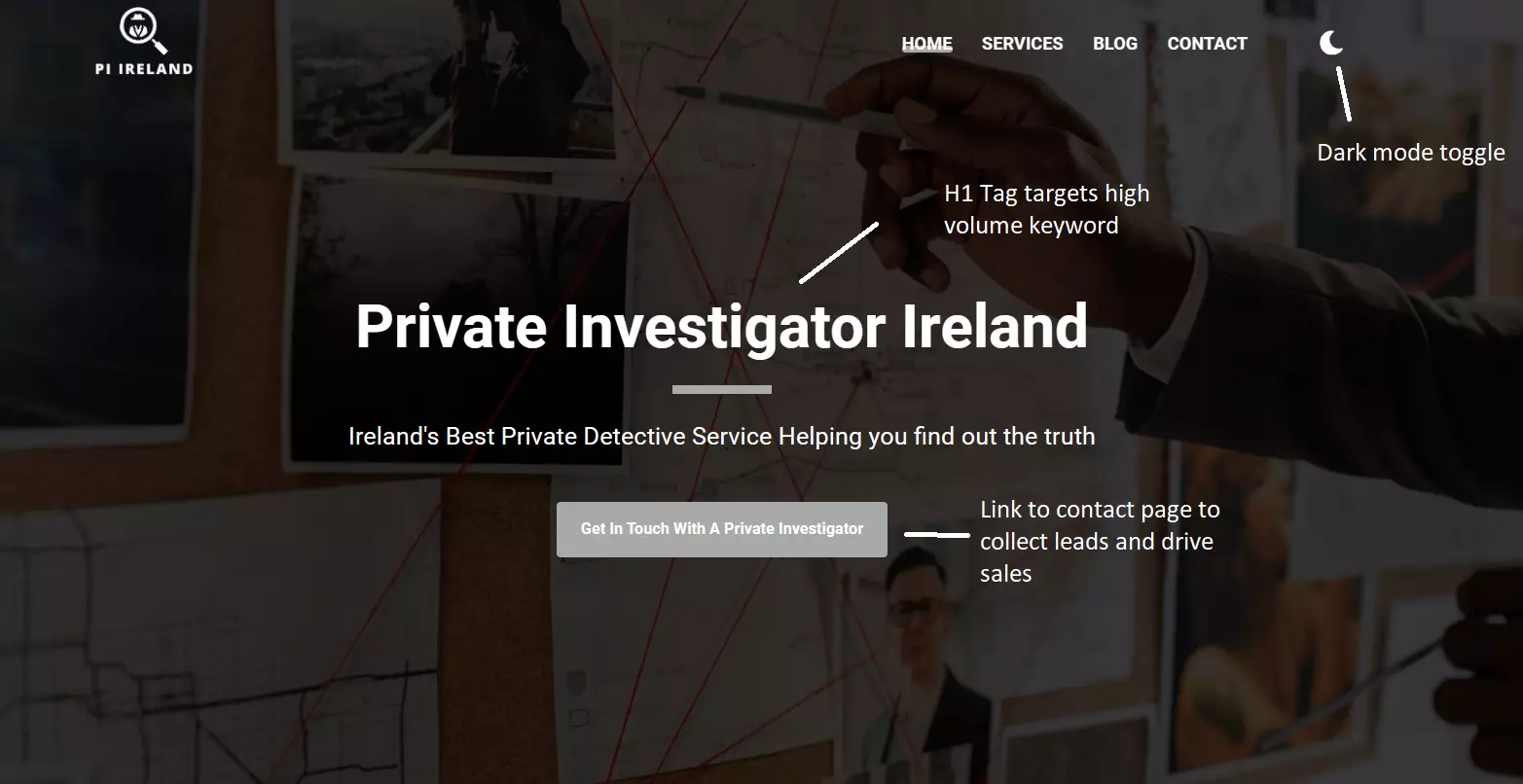 Quality Images
We used high quality page speed optimized images when building this project. The process of optimizing an image includes splitting the image into three different sizes. One size for desktops, one for tablets and one for mobile devices. It is important to then compress and convert those images to the WEBP format. Many websites are very slow because they load massive images and then scale down those images for mobiles, instead of using code to simply serve a smaller image based on the screen size of the device using the website.
Off Page SEO
In optimizing the online presence of Private Investigator Ireland, we strategically implemented key off-page SEO tactics, focusing on sitemaps, Google Search Console (GSC) submission, and local directory submissions.
Firstly, we ensured the website's sitemap was meticulously structured and regularly updated. This XML file serves as a guide for search engine crawlers, facilitating the efficient indexing of all relevant pages. By submitting the sitemap to search engines, particularly Google, we enhanced the visibility of Private Investigator Ireland's content in search results.
The incorporation of Google Search Console played a pivotal role in our approach. By submitting the website to GSC, we gained invaluable insights into how Google perceives and indexes the site. This data empowered us to identify and address potential issues affecting performance, ultimately enhancing the overall search visibility and user experience of Private Investigator Ireland.
Additionally, for effective local targeting, we engaged in local directory submissions. By registering the business in prominent directories like Google My Business, we strengthened the site's presence in local search results. Consistent and accurate NAP data across these directories established trust with search engines, emphasizing the importance of local directory submissions for businesses seeking prominence in specific geographic areas.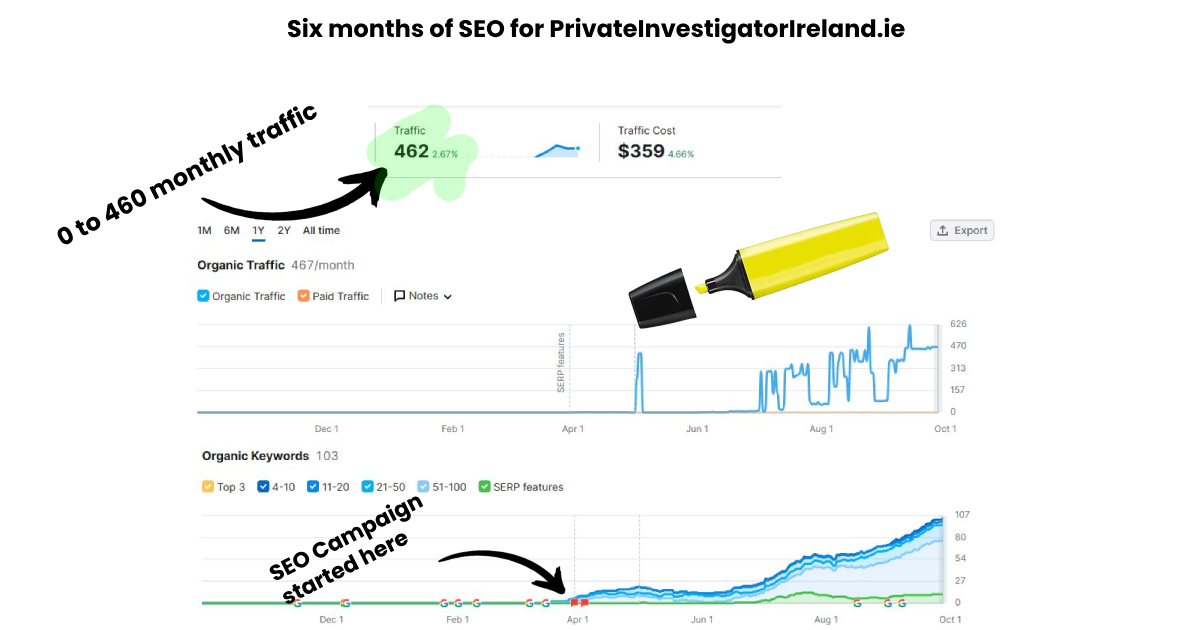 We achieved incredible results for Private Investigator Ireland by implementing correct code structure, lightning fast page speeds and search engine optimized blogs based on intelligent keyword research. This website did not purchase our SEO package, they simply purchased our Golden Support Web Design Package. This project is a fantastic example that shows the power of hand-coded websites built by a professional.