Web Design Plans & Pricing
Choose Your Plan
Website plans are based on five page hand-coded websites
ONE TIME PAYMENT

We will build you a hand-coded website based on the samples provided, direction and brand guidelines

Starts at €1997

Purchase

Website Package Details

5 Page Hand-Coded Website (+300 per additional page)
Mobile Responsive
XML Sitemap
Competitor Analysis
SEO Keyword Research
Blog
Contact Form
Full On-Page Search Engine Optimization

SILVER SUPPORT

We will build you a hand-coded website based on the samples provided, direction and brand guidelines. We will also provide you with basic support and maintanence

€0 Down, €147/mo

Subscribe

Website Package Details

5 Page Hand-Coded Website (+300 per additional page)
Mobile Responsive
XML Sitemap
Competitor Analysis
SEO Keyword Research
Blog
Contact Form
Full On-Page Search Engine Optimization
Basic Support
High Speed Web Hosting & Maintenance
1 Monthly Edit to Existing Pages

GOLDEN SUPPORT

We will build you a hand-coded website based on the samples provided, direction and brand guidelines and provide full time support to ensure your website is always a success.

€0 Down, €247/mo

Subscribe

Website Package Details

5 Page Hand-Coded Website (+300 per additional page)
Mobile Responsive
XML Sitemap
Competitor Analysis
SEO Keyword Research
Blog
Contact Form
Full On-Page Search Engine Optimization
Unlimited Updates to Existing Pages
24/7 Support
High Speed Web Hosting & Maintenance
Google Analytics
4 SEO Link Packages included per year
Our Process
Web Design Ireland
Discovery
We discuss your business goals and put a plan together to get your desired result from the website.
Design
You will recieve mockup files to view the websites planned design before development
Test & Launch
You will get to test the website before launch. Once you are happy we will connect your domain and launch
Strategy
We will analyse your competitors and provide a detailed keyword research report
Development
We will hand-code your website to perfection, implementing our SEO & Design strategies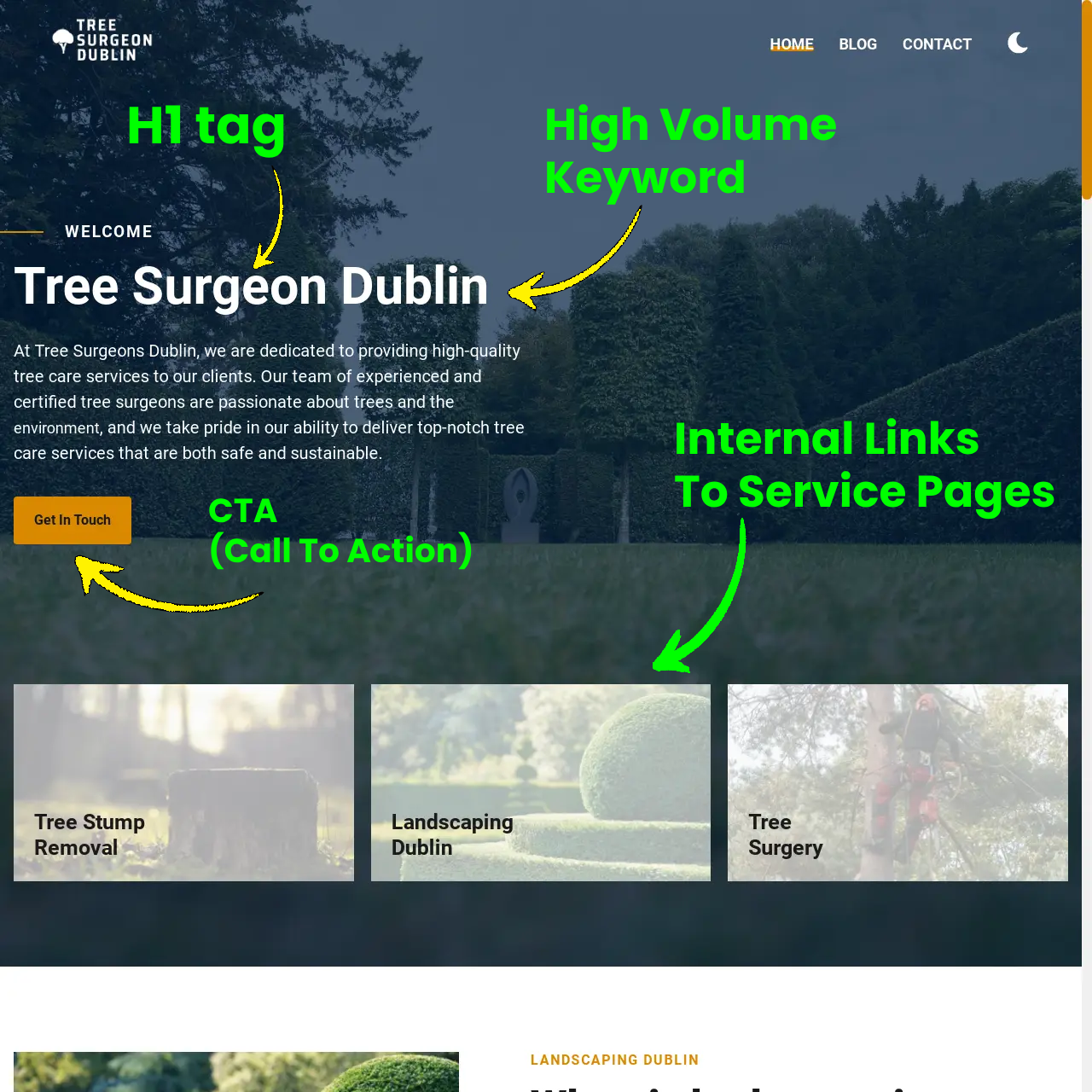 Web Design For
SEO

&

PPC

The are several factors we have to take into account when building a website to ensure the website is both Search Engine Optimizated and optimized for Google Ads. We will look into the websites On Page SEO, Off Page SEO, Technical Factors and analyze the competition.
On Page SEO
On Page SEO is the process of optimizing elements on web pages for search engines. In addition to writing relevant, high-quality content, on-page SEO includes optimizing your HTML code (title, meta, and header) and including clear, high quality images relevant to the topic of the web page.
Quality Content

This involves checking the quality of the copywriting on the webpage. We would check for basic things such as spelling errors and if the content is relevant to the topic of the web page. It is also very important to include as much information as possible that could be relevant to people who land on the page. This will decrease the websites bounce rate and increase each users dwell time.

Code Structure

A properly structured website is a website that is built not only for users, but for Google. This involves the using the correct HTML tags and putting them in the right places of a webpage. Many websites that are built with WordPress have their SEO destroyed because the developer does not understand how to correctly structure HTML tags. This is one of many reasons why hand-coded websites made by a professional programmers out-perform WordPress templates. The most important HTML tag on a web page is the H1 tag. You should only have one H1 tag per web page and include your main keyword in this tag to let Google know the topic of the webpage.

Quality Images

It is important that all images on the website are high quality and optimized. The process of optimizing an image includes splitting the image into three different sizes. One size for desktops, one for tablets and one for mobile devices. It is important to then compress and convert those images to the WEBP format. Many websites are very slow because they load massive images and then scale down those images for mobiles, instead of using code to simply serve a smaller image based on the screen size of the device using the website.

EAT

E-E-A-T in SEO stands for Experience, Expertise, Authoritativeness and Trustworthiness. Googles puts the most authoritative sources at the top of the search results. It's important to include a detailed about page on your website with user reviews to show Google who you are and why you should be considered an authority in your niche

Keyword Cannabilization

Keyword cannibalization is when multiple pages on a website target the same or similar keywords. This will lead to your web pages competing against each other for the same set of keywords. This can hurt your rankings for the keywords experiencing this issue, and it can occasionally signal an opportunity to consolidate content to improve rankings and organic performance.